12
Dec
Hail Damage and Your Roof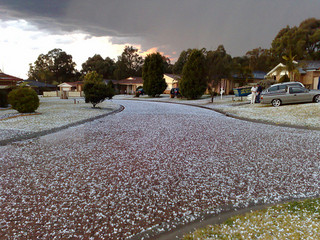 As the days are getting hotter and storm season draws nearer, this heightens the possibility that we could face hail storms.

Hail is capable of causing severe damage to cars, homes and ourselves. That's why the best idea is to always seek shelter at the threat of a hail storm. But while our homes are usually the best place to bunker down, it doesn't mean that they're impervious to hail damage. In particular, our roofs can be substantially damaged - whether initially visible or not.

Roofs and hail damage
Depending on the type of roof you have, the visibility of damage can vary quite a bit. If you have a metal roof - such as a Colorbond steel roof - then the impact of hail damage will typically show itself clearly. Dents and the loss of the top layer of paint are clear signs of damage. However, minor dents shouldn't compromise the life or integrity of your roof, neither will paint damage - this is merely an aesthetic form of damage.
However, metal roofs with a low-pitch (such as a roof that is either flat or has a minimal slope) could pose a problem. If notable dents have been caused, this allows for water and dirt to pool in these dents and cause corrosion. Similarly, if you have a low-pitch metal roof where the sheets of metal overlap and hail damage has caused these overlaps to deform, water could become caught underneath and also cause corrosion.
Tiled roofs (concrete and terracotta), on the other hand, may not show damage with such clarity. Unless the hail is significantly large/heavy or your tiles are already in a bad way, hail shouldn't really cause your tiles to reveal any clear cracks. However, just because you can't easily spot them, this does not mean cracks haven't formed.
The main problem with hail damage to tiled roofs is that you may not spot the damage and then assume there's no issue. However, the consequence of such damage may not even begin to show themselves until years later through leaks or loosening tiles.


How to identify and deal with hail damage
Your best bet in identifying hail damage is to call in a professional roofing company. While hail damage to metal roofs may show itself more easily, pinpointing hail damage to tiled roofs is something only a trained professional can identify.
Professional roofers are trained to identify these small signs and assess whether or not they're the result of hail damage or something else. While it may be a small bit of damage at this point, it could become a much larger problem down the track.
Roo Roofing specialise in both residential and commercial roof repairs and replacements. After a hailstorm, we can assess whether or not your roof has suffered any damage and offer you the best solution to the problem.

To find out more, call us on 1300 734 148 or visit our contact us online.