1
Jun
6 Unusual Roofing Materials From Around the World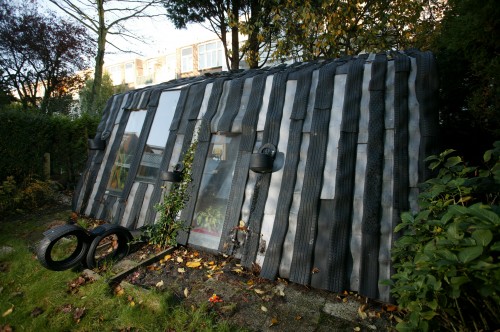 There's plenty of unique roof shapes all over the world, with endless innovations of design and function. But some builders and architects go one step further and build their unusual designs with even more unusual materials.
From porcelain to car tyres, there are some very unique and unusual roofs out there, some of them more practical than others.
We look at 6 examples of the most unusual roofs:
1. Wool and seaweed house, Denmark
On the Danish island of Læsø, seaweed is a traditional roofing material. Many homes on the island are built with a seaweed called eelgrass, which can last up to 300 years. The use of natural resources on the island came from necessity; due to deforestation, locals were left with no timber to build their homes, so had to use driftwood and eelgrass.
This modern take on the Danish tradition sees the addition of knitted wool for insulation and neat pillow-like shapes to hold all the seaweed together.

2. Plastic bottle cabin, UK
Named the Fizzy Bottle Project, this small cabin in Merton Abbey in London was designed and built by a group of volunteers to create a new use for discarded plastic drink bottles. The bottles were kept in tact and then used as colourful "shingles". They were flattened by a road roller, de-labelled, hole punched, screwed together and then passed up to builders to be affixed to the roof.

3. Porcelain House, China
In China's 4th largest city, Tianjin, the unusual Porcelain House or China House has become a big tourist attraction. The roof is made entirely of ancient ceramic pieces from damaged antiques, creating a unique and colourful mosaic roof. An affluent collector of Chinese vases supposedly spent over $300 million to convert the previously nondescript building, which opened to the public in 2007.

4. Tin can shed, U.S.
This shed in the U.S was built with 90% repurposed materials, with the metal roofing sourced from institutional-sized cans that had the tops and bottoms removed, were cut, flattened and attached as shingles. The entire roof was spray painted with copper metal paint. This DIY project made the most of unusual materials, and created a garden shed that anyone would be proud of.

5. Aluminium mesh house, UK
This innovative restoration in the UK turned two enormous grain silos into a family home. The owners and builders tried to keep the sense of the old barns, with materials re-used or given new uses. The roof is made from aluminium mesh, which allows light into the main spaces. The mesh is waterproofed underneath so water doesn't get in, but it's design lets plenty of natural light through.

6. Rubber tyre shed, Netherlands
This garden shed turned house and office was built in The Hague, and features materials from the demolished old garden shed once in it's place and other local waste supplies, such as car tyres and insulation glass. The rubber tyres were found at a local garage and insulated with stone wool, making them both water and winter-proof. Tyre rubber is extremely durable and takes a long time to degrade, but whether it's aesthetically pleasing is another thing.